Simutrans InGame Help Online
---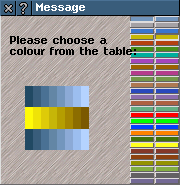 Player Colour Help
Player Colour
Player Colour sets the colour of the company.
Vehicles, buildings & other items show company colour.
Click on colour-bar to change company colour.
Titlebar of Player Colour changes (not to new company colour) to indicate new colour is selected.
Default human player colour is light blue.
Some items are not colour-coded & may not display chosen colour.
---